Cooking a steak can come to you naturally or seem a daunting and complicated task. Here are the basic know how to guarantee success. No biggies I just do as my maman did… I touch the meat with my finger to "feel the cooking" but for those who prefer a more exact sience I added timing ;-) Have your beef... and "Heat" it !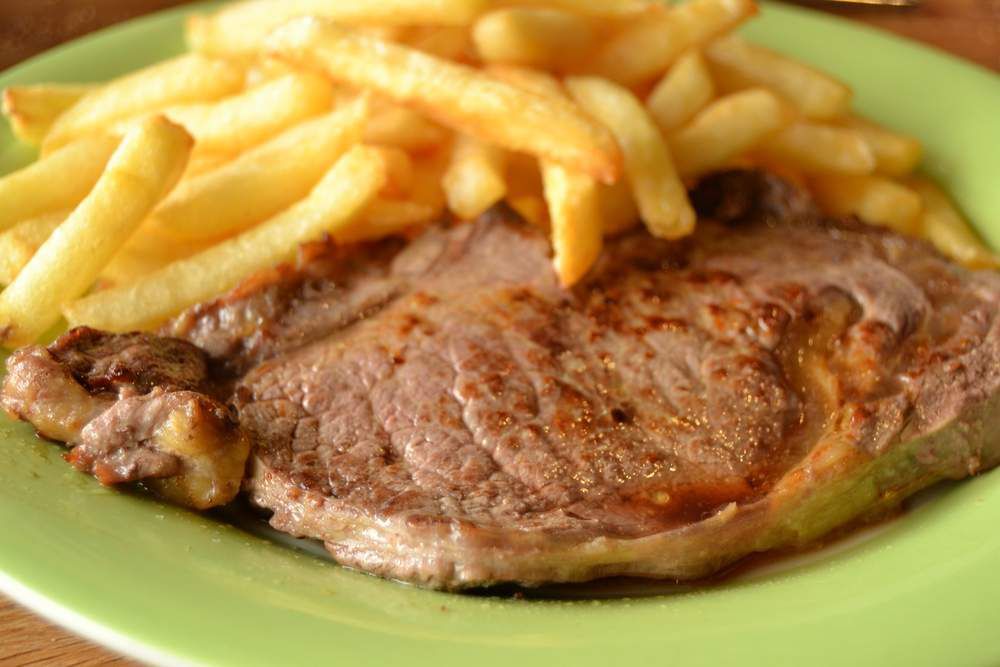 The rules for preparing the meat:
- Meat must be at room temperature
- Rinse meat with cold water
- Meat surface must be very well dried
- Use a heavy cast frying pan or skillet
- Use a tasteless oil like sunflower oil
- Instead of heating oil in the pan, massage oil onto the meat to avoid sticking or hot projections
- Place meat in skillet when the surface is really very hot.
- Seasonning can be done ahead of cooking or after, it is a widely debated choice, but should remain a personal one as they are no rights or wrongs there, just personal likes and dislikes ;-).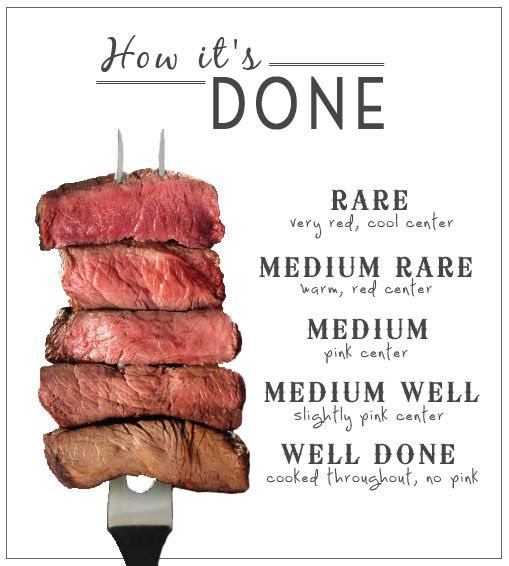 The cooking types:
Bleu – (Blue - very rare) for the amateur of clean tasting meat. It will be barely warm in its middle and have a large red coloured section and blood will seep out when the meat is cut.
Saignant – (Bloody - rare), but cooked a little longer than a bleu steak. The red colored section in thinner. Blood will seep out when the meat is cut.
À point – for the French it means "to a T" but will be a "rare" by US or GB criteria. The meat is cooked a little longer than for saignant. Pink juice.
Bien cuit – (well done - medium). In France (only) it still may present a very light colour in the middle but it's just a hint, the meat is cooked through but juice are still present but no longer bloody nor pink, juices are golden brown.
Très bien cuit – (very well done) a crime as far as the French are concerned. It's like killing the meat twice… Texture and taste like an old boot, only a old boot will taste better.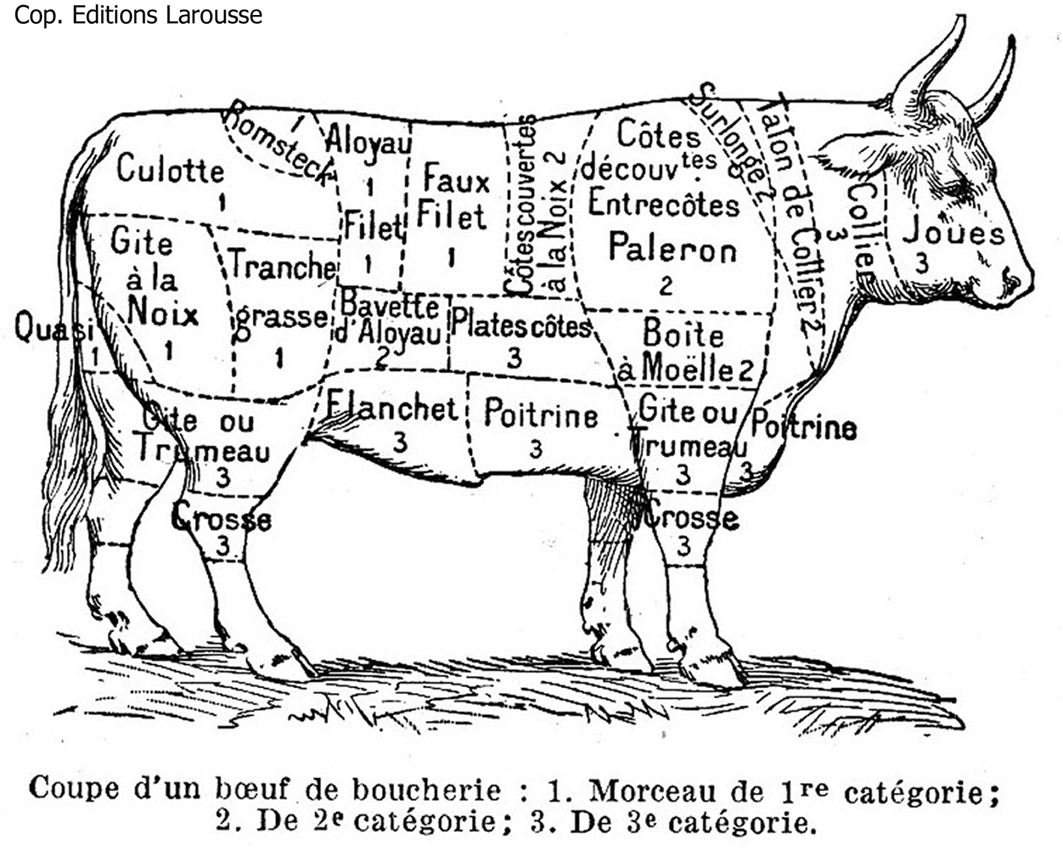 The cuts of meat
Bavette - Skirt Steak
Chateaubriand - A very thick cut of tenderloin (never well done)
Entrecôte - Rib eye
Faux Filet – Sirloin
Filet Mignon - Filet mignon
Onglet - Hangar Steak
Rumsteck/Pavé de rumsteck - Top Butt
Steak Haché – minced beef
Steak Tartare - Not a piece of steak, it is a serving of raw best steak. Traditionally it should be chopped up with a chilled knife not a meat grinder. The art consist in realising the most cuts possible with the cold blade without "warming" the meat.
The lazy version consist in using a meat grinder. Tartare chopped by hand will indicate "façon bouchère" or "au couteau" (Butcher' style, or, by knife).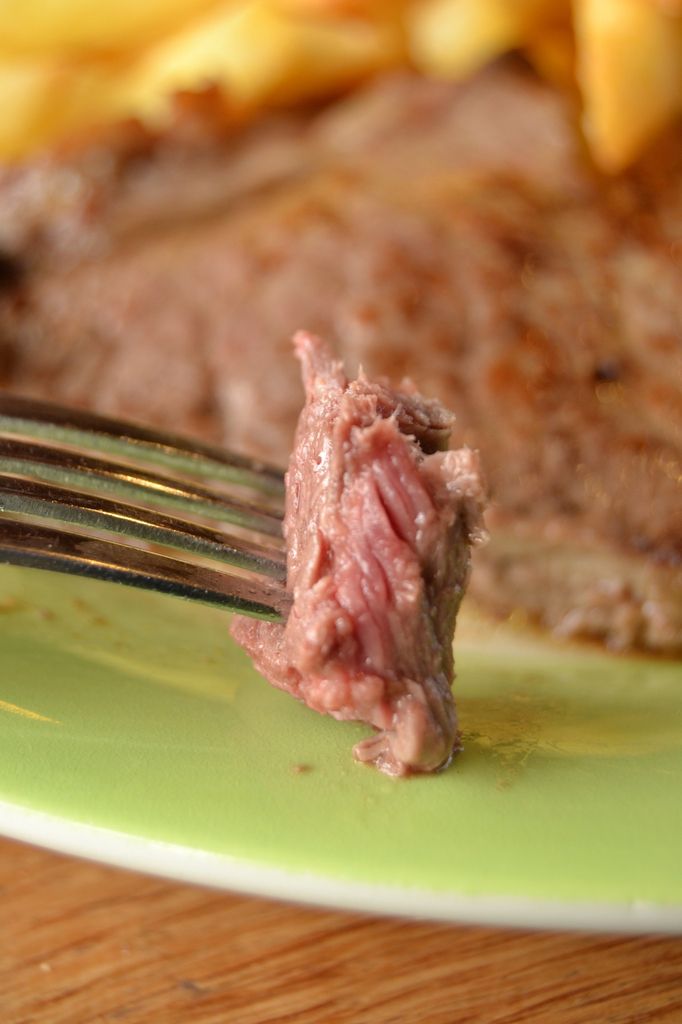 Let's get cooking!

Heat pan until very hot but not smoking
Massage oil into meat, if pan is new/not tempered by use you may add a thin coating of oil with a paper towel before heating it.

Add the well dried up meat.
Sear uniformly on both sides following time guidelines.
Once cooked leave to rest aside a few minutes to allow juices to flood back through the meat.
Blue

: Should still be a dark colour, almost purple, and just warm.

It will feel spongy with no resistance.

Rare

: Dark red in colour with some red juice flowing. It Medium-rare: Pink in colour with some juice. It

Medium

: Pale pink in the middle with hardly any juice. It Well-done: Only a trace of pink colour but not dry. It will feel spongy and soft and slightly springy.
Cooking time and appearance guide
For just under 1,5 inches - 3.5 cm thick fillet steak:
Blue: 1½ mins each side
Will feel spongy to the pressing finger with no resistance
Rare: 2¼ mins each side
Will feel soft and spongy to the pressing finger with slight resistance.
Medium-rare: 3¼ mins each side
Will feel a little soft and spongy and somewhat springy to the pressing finger.

Medium: 4½ mins each side
Will feel firm and springy to the pressing finger.
If the English speakers use the phrase "I could eat a horse" to indicate that they are really hungry, the French tend to say "I could eat an ox"...
On a less cute note French do eat horse meat, although it is getting less and less popular over the years (I am glad to say). Horse butchering is very specialised and those store are called "boucherie chevaline" as cheval means horse. They have traditionally a horse figure above the store front, a good clue to be careful when purchasing meat... it may not be beef! My maman would make us eat horse meat once or twice a month (and lamb's brain on Wednesday) till we were old enough to say no... A tradition I never repeated with my brood... Go figure…